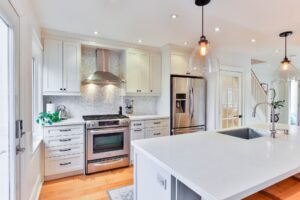 Summer is a great time for Lake Martin buyers and sellers to consider making a move! There is more time to pack, more time to scout where you'd like to live, more time to house hunt, more time to ensure you're getting the best possible deal and of course, more time to get your own home ready to sell.
Preparing your home to sell in Alabama is equally as important as where you're going next. Before you list your property this summer, consider tackling these 5 important tasks that can really make an impact on local homebuyers:
Clean out the drains
You may not have thought about this prior to an open house or showing, but homebuyers do two things during their visit— run the water and check for odors. Oftentimes, the odors can be coming from either the sink drain or tub. Make sure they are both unclogged and clean by using a simple cleaner followed by boiling water. You can do the same with your garbage disposal!
Refresh the curtains
Whether that means washing them or replacing them, curtains need to be refreshed before you list your home on Lake Martin. They, like carpet, hold a lot of dust and dirt and can become faded over time due to sunlight. Not only does this turn off homebuyers, but it gives them the impression that other (more important) things in the home may have been passed over as well.
Empty the closets
Every home has a story, but homebuyers should be able to visualize themselves inside and start their own. Don't let cluttered closets get in the way of that! In fact, a clean and clear closet can give the appearance of larger storage space which is one of the most popular reasons homebuyers are moving today!
Refresh the entryway
This is the first place a buyer will notice when they enter your home on Lake Martin. Improving curb appeal and spending time on the entry can lengthen the period of time before a buyer decides if the home is "the one;" Hint: it's usually 30 seconds!
Refresh the scent
A home's odor can be a huge buyer turnoff! Even if you don't think your home smells bad, open the windows, grind half a lemon in the garbage disposal, add fresh flowers, burn odor-reducing candles or bake cookies. All of these can make your home more attractive and appealing to Alabama buyers.
The Haynie Team can fill you in on the common buyer turn-offs, what they're looking for and how you can appeal to them this summer with your property. Give us a call today!
Becky Haynie, Associate Broker / Realtor
Lake Martin Realty
www.HomeOnLakeMartin.com